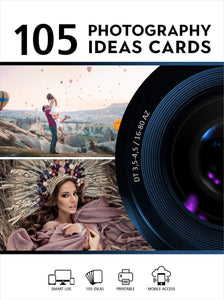 Are you an instagram blogger who is running out of content ideas or a photographer who wants to get that next great shoot idea? Well, we are here to help: 105 Photography IDEAS Cards is your solution. 
While it's all clear why a blogger needs daily content ideas...What about photographers? Well, every photographer comes to a point where you either run out of ideas or your ideas are hard to realise at this particular point of time. However, you do still want to do something creative and can't make up your mind what that something is. 
On the other hand, beginner photographers experience another issue: you shoot everything all over the place. However, you are not prepared. You are not sure what kind of results you are looking for. You do not think the ideas through. Your results are way behind expectations.
We've also been there. Hence, we would love to help with this complete solution in the form of 105 Photography Ideas Cards. Each card contains a checklist of possible objects you may need, location of the possible photo shot, a brief idea description and examples.

These cards are extremely easy-to-use. Download them to your phone or a computer and we are sure you will definitely find something interesting. 
"Thank you guys for creating this product. I mean yes, sure, it's all pretty obvious. You can probably find each separate idea on the internet... but having this cards collection has provided me with extra ideas in one place. So that I can pick and choose. Actually, I've realised 10 of them in the past 5 months.". - Luke M., a pro photographer from New York, USA. 

"As a beginner photographer, you want to take pictures of everything all over the place. Due to this fact, most of the shoots are not that prepared and results are not always great. This product has provided me with a plan that has improved my results and led to some great pics. Thanks a lot." - Jenna A., a beginner photographer, London, UK.

"Cheers team!! You've saved me a lot of time. This great set of ideas has definitely made my Insta life easier. Well, of course, I am not using all of them, but there is a lot useful stuff in it". - Anna B, instagram blogger, Amsterdam, NL. 
✅ Make your Photo life easier and get better results.
✅ Save valuable search for the photoshoot ideas time
✅ Take your photography to the next level.
✅ Improve your instagram
✅ Focus on results, not on searching for that next idea.
✅ Easy mobile phone access at any time.

Just choose the card(s) you want and make these photo shoots happen :). 

Who will find 105 Photography Ideas Cards useful?
Beginner photographers
Experienced photographers, who want to get some extra ideas that they could have missed
Instagram bloggers, who are looking for ideas for the instagram. 
The product includes:
105 Photography Ideas cards. They are delivered instantly by direct digital download/browsing through. Yes! You get get the link instantly after the payment. No need to wait :). 

⭐⭐⭐⭐⭐ Moreover, they come in two formats: pdf and jpg to make your life easier.

Take them wherever you want! Come back to them at any time.

Access from a mobile phone, computer, print them out - use any way you want.  
Grab This 105 Photography Ideas Cards
For Just  $460   

 

$39.99 Today !